The Ensemble
The mission of Sanford Dole Ensemble is to present contemporary musical works, composed for the combined forces of voices and instruments at the highest level, employing professional singers and players. While the repertoire may include anything written post-1900, the emphasis will be newer works (post-1980) and may include small ensemble music, such as a single vocal soloist with a few instruments, to mid-size chamber choir with chamber orchestra, and full-size choral/orchestral works.
Our current focus is on choral a cappella music. We currently present concerts in the North Bay Area as North Star Vocal Artists (see News).
Our goal is to uncover and promote modern works in the vocal/instrumental genre, especially those by local composers, discovering which of these are of lasting value, and educating the public on the composer's process and inspiration.
Founded in 1991, Sanford Dole Ensemble was conceived as a vehicle to explore the vocal/instrumental repertoire. Always maintaining a vocal component, the group has varied from as few as 5 or 8 singers, performing a cappella, to 24- and 40-voice chamber choirs, often with small instrumental accompaniment. The group even expanded to become a 100-voice symphonic chorus for a performance of Mahler's Das Klagende Lied with the Berkeley Symphony Orchestra, Kent Nagano, conducting.
Over the years, the Ensemble has presented new works for special programs at Mills College, presenting the works of Alvin Curran, and Annea Lockwood, as well as premiering works for the composers' collectives, New Release Alliance and the Society of Gay and Lesbian Composers.
Sanford Dole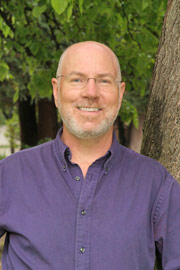 Sanford Dole is Artistic Director of Cantabile Chorale, a 50-voice community choir based in Palo Alto, and Music Director of St. Gregory of Nyssa Episcopal Church in San Francisco. He is also a member of Philharmonia Baroque Orchestra's all-professional Chorale.
Active in the Bay Area as a conductor, singer and composer for his entire adult life, Mr. Dole had performed with, and had his compositions performed by, many of the area's leading ensembles. He was a member of the San Francisco Symphony Chorus for 23 seasons, and was that group's Assistant Director from 1987-97. A founding member of the male vocal ensemble, Chanticleer, his arrangements have often been performed by the renown 12-man chorus as well as his commissioned work, I Am With You, set to a poem by Walt Whitman.
Mr. Dole received his Bachelor and Masters degrees, in composition and conducting respectively, from the San Francisco Conservatory of Music. His conducting credits include such major works as Handel's Messiah, and Bach's B Minor Mass and St. Matthew Passion, as well as many other choral and chamber ensemble concerts. In addition, he has prepared choruses for performances with the California Symphony and the Berkeley Symphony.
His voice can be heard in solos on recordings with Chanticleer and the Grace Cathedral Choir of Men and Boys, and his compositions appear on CD's produced by Cantabile Chorale and St. Gregory's Choir. In addition to many anthems and shorter works composed for these groups, his catalogue includes a string quartet, a cello sonata, song cycles, piano solos, and more. His first published composition, Gloria, will be released by Santa Barbara Music Publishers in January 2008. For a complete list, visit: sanforddole.com.